FREE! CALLING ALL KIDS:
Join us at the Monument Branch Library for our April art show of Colorado Nature and the annual US and Colorado State Junior Duck Stamp Design Contest entries.
due March 15 each year - Be there with us.
Children and our Earth are Winners.
Colorado Senator Allard awards MSFA's Natasha L. high honors for the event.
Be kind to your web-footed friends...for that duck may be telling us about somebody's Mother - or at least our Mother Earth's Health...

"What?" you may be thinking....and that is just what we hope you will do!

The students of the Monument School of Fine Arts will be offering a show of their work at the Monument Branch Library in April to celebrate the Junior Duck Stamp designs they have made, and other fine art on the subject of,"...Make a Scene in Monument, Colorado!"

The show is to include works that celebrate the natural flora and fauna of the region, with an emphasis on the Colorado/Wetlands habitat as barometer to our planet's current health.


Wetlands Habitat - Barometer of Earth's Health
Click here to inquire for details on the Junior Duck Stamp Project
Duck Stamp Design Project Informs Communities
Click here to request information on Classes, Conservation Info & Events
This is a wonderful project where a young person's hard work is reflected in art and the art influences our communities to a brighter awareness of our world's health. Please join us!

This year the Colorado State Finals will be at the Alamosa Refuge of the National Wildlife Refuge System (NWRS) of the U.S. Fish and Wildlife Service, which comprises more than 93 million acres of Federal land managed by the Service in more that 530 individual refuges and thousands of Waterfowl Production Areas in all 50 states and U.S. Territories.


The many benefits of the Junior Duck Stamp program include not only a great time working on great art, but instilling a lifetime of appreciation for a very, very important, yet fragile area of our natural world, and a strong compassion and sense of individual responsibility in the maintenance of our environment. It also benefits the waterfowl in the environment locally as well as any migratory visitors, not to mention the hundreds of other animals and plants that share wetland habitats.


While exploring aesthetic qualities is part of the design contest, the deeper learning of wildlife management principles and awareness of natural resources is also an integral part of the program. The beauty and diversity of the wildlife and habitat are superbly joined in an expression of visual awareness and visual thinking, a kind of a term paper in images rather than in printed words...

The Junior Duck Stamp design program is a curriculum that integrates both art and science, and it was developed to teach environmental science and habitat conservation.

It is sponsored nationally by the U.S. Department of the Interior/U.S. Fish and Wildlife Service, and on a very local level here in the Pike's Peak Region, by the Monument School of Fine Arts.

The 2004 Junior Duck Stamp Awards Ceremony for Monument area winners was held on April 28, 2004, at the Monument Branch Library, Pikes Peak Library District.

Congratulations to all the entrants - your big contribution to save the Earth begins with your sincere effort to learn and create such beautiful art. You have truly shown your appreciation for the beauty of nature and our environmental health. Bravo!

Next year, we hope to host the awards for all of Colorado right here in Monument - at least the ones from Monument and north to Boulder or Fort Collins. Let's get together and have a great time.
Janet Sellers, Director, MSFA, and Student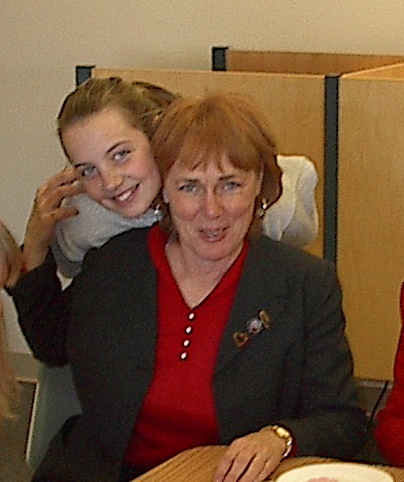 Click here for more local/ national programs and events we sponsor. You can help. Here's how...
Need more information, links, or details? Email us with your question. (Just be sure to include your reply email address, and the words "Duck Stamp Info" in the subject area!)